2020 Emerging Risks concerns
Besides risks that might occur in normal operation, ThaiBev considers and puts importance on emerging risks which were disclosed in Annual Report 2020, such as the increasing of senior citizen in many countries, including Thailand, which are gradually become aging society, healthier consumers behaviors which expecting higher quality, standard and safety on food and beverages. This coincided with the government policy in focusing on health and safety for all people, especially senior citizen, by amended and improved laws and regulations regarding products and services which affect to consumers' health and safety. ThaiBev always produces products at its highest quality and safety standards according to Health and Nutrition policy. ThaiBev also focuses on research and development of healthy beverages and food, which caters to consumers' behavior of each consumers group or age group. We also design and develop labels and packaging that communicate important data and nutrition fact to consumers as well.

However, ThaiBev realized that every country still faced public health issues, especially the pandemic and pollutions which affected their lives and businesses drastically, such as Bird Flu pandemic in 1987, SARS (Severe Acute Respiratory Syndrome) in 2002, Swine Flu in 2009, and recently PM2.5 air pollution which happened in many countries, affected people's health and way of lives and both domestic and international businesses. Risk Management during crisis is critical to business survival. ThaiBev has setup plans and procedures for business continuity to make sure of our steady and stable operations and boosts the confidence of employees and stakeholders.

With the recent worldwide public health crisis from Coronavirus 2019 (COVID-19), it is an important risk that's affected people's health and way of lives. Many business has to temporarily closed, which affected business image and reputation on its management effectiveness in response to COVID-19 pandemic. During the COVID-19 pandemic in Thailand, ThaiBev has implemented its pre-arranged business continuity plan on time, which helped its business to operate continually without any impact on employees and stakeholders. Those effective procedures in response to COVID-19 are:
ThaiBev's COVID-19 actions
ThaiBev intends to be a part in making sustainable society. We focus on all of our stakeholder groups, inside or outside the organization. We aim to fully care for all of our employees and keep our COVID-19 infection at zero in our organization.
Employees Protection and Support Procedures
Setting up "COVID-19 Relief Center" (CRC)
This center gathered information and coordinated to provide supports to employees on 3 dimensions, which were management, health and safety, and communication both inside and outside the organization which was integral to our employees.
Basic Safety Procedures
such as providing alcohol gel at various points throughout the organization, temperature check before entering workplace, clean the surface of touch points every 2 hours, Ozone-cleaning in all air conditioner in workplace, providing personal equipment to prevent from touching and spreading COVID-19 such as face mask, rubber glove to employees who still have to work on site for business continuity, and providing 72% Ethyl Alcohol to employees for themselves and their families safety.
Prevention and Risk Monitoring Procedure
communicate to employees on proper practice according to Working During COVID-19 Preparation procedure, which divide employees into 3 groups:
Group 1
– Employees who has to work at their workplace,
Group 2
– Employees who must work together to finish their project on time and can work in secondary workplace,
and Group 3
– Employees who can work from home and deliver effective results continually.
This procedure helped decreasing the risk of cluster infection. On 1-30 April 2020, ThaiBev has arranged Work From Home procedure for Group 3 and setup virtual meeting via Zoom and Microsoft Team program. ThaiBev has the rights to adapt and adjust work procedure according to the situation and use Beverest Life application to help employees to register 3 times a day digitally to make sure that employees stay clear from high-risk areas.

Employees' Safety Procedure
ThaiBev provided accidental and COVID-19 insurance from Southeast Life Insurance, PLC. to all employees within ThaiBev Group and TCC Group with 100,000 Baht coverage value per person. This covered more than 50,000 employees across the country.
ThaiBev cared for employees' families wellbeing, providing drinking water at special price for employees across the country and supported "ThaiBev Survival Kit" to subsidize the cost of living for employees who lost their incomes due to COVID-19.
ThaiBev provided supplement jobs for Beer Promotional staffs and OISHI staffs who served in the restaurants via Online sales and expand their product lines to help them making income during the crisis.
ThaiBev "reduced the volume of contributions to Social Security Fund" for employers and insurers (employees) for 3 months, March – May 2020, in accordance to Ministry of Labor's announcement, to help insurers which were ThaiBev staffs. ThiaBev has returned the overpaid amount back to all employees through their salary accounts in April 2020 without any effect to employees' current benefits (as insurers).

Business Operation and Social Enterprise Procedure
COVID-19 Special Operation Center or Situation Room was setup in March 2020 as the center for news update, co-ordinate, policy framework setting, procedure and operation with 7 main co-ordination center of ThaiBev which handled procurement, production, distribution, sales channel, IT, Human Capital and Corporate Communication. The Situation Room gathered the update news from all sources (government, business and social sector) both domestic and international to analyze COVID-19 situation to prevent any problem that may affect the organization.

The Situation Room helped ThaiBev's business continuity to run smoothly without any disruption. ThaiBev can distribute its products to consumers continuously, especially during the lockdown period announcement of Thai government, ThaiBev also planned drinking water production, sales, and logistics to deliver over 18 million packs for the people's demand. It helped the organization and its employees to be prepared and managed the risks better. The Center can track and collect more than 98% of employees' data via their digital registration on Beverest Life application. The data was shown that there was no employee infected with COVID-19 during this pandemic.
Business partners' risk evaluation ThaiBev has expanded its business risk evaluation by sending risk evaluation questionnaire to Tier 1 and Tier 2 suppliers in total of 658 suppliers, covering over 80% of buying volume which was about 27,500 million baht per year. This survey explored the readiness in business continuity and advised on Business Continuity planning (BCP) to business partners to handling those risks efficiently.
Products' Quality and Safety Standards ThaiBev and subsidiary companies have created employee manual for COVID – 19 prevention in order to create standard practices in services and ensure that every product under ThaiBev are hygienic and safe from contamination; from hotel staff, corporate personnel, every selling points and restaurants all over the country to guarantee that safe food are delivered to consumers. All employees are strictly adhere to procedures in this manual. Additionally, there is collaboration with more than 200,000 business partners by campaigning for more than 24,000 CVM staff around Thailand to respond to COVID-19 prevention measures by ThaiBev, starting from individual level for each staff to be aware, take precaution, and monitor their personal health to making sure that all shops who are ThaiBev's key partners throughout the nation are up to hygiene standard. The procedures involve wearing mask, ready equipped with personal disinfected gel, and wearing gloves while operating in order to reduce risks of exposure from contaminated surfaces. This also is implemented into products delivery, shelfing, and payment processes in order to reduce community infection rate. All these have been implemented since mid-February 2020.
Internal Campaign for Staff to Participate in "Snap & Share" Activity Encourage staff to participate through Beverest Life Application once encounter shortage of ThaiBev's products in the market, together with details like date and time, place, and product's details to allow ThaiBev to consistently respond to consumers' needs.
Extension of Services in Various Businesses There is an obtainment of license to provide products to consumers who are in the company and subsidiary companies. For instance, HoReca has set up water distribution operation only for internal staff. Products under Oishi brand also launched special promotion to fight COVID-19. Services are expanded into online platform. There also was encouragement for take home order and delivery service of safe food.
Medical Equipment Donation ThaiBev donated more than 190,000 liters of medical grade alcohol disinfectant through collaboration with Ministry of Interior and Thai Red Cross to operating centers and heath service stations in 76 provinces. Furthermore, there was a donation of more than 600,000 liters of alcohol disinfectant to support the works of health professions in various health institutions, provincial operational units, and airports. ThaiBev also provided COVID-19 insurance to more than 1,000 doctors and nurses in order to encourage them for treating patients during this hard time.
Donation of Crystal Drinking Water Crystal Water was donated to police units which work on COVID-19 screening. There also was Crystal Water delivering service directly to consumer's households.
Campaign to Stop the Infection of COVID-19 ThaiBev sponsored government's campaign message to stop infection by staying home on more than 190 LED signages belonged to the company, which hold media value of 2.83 million baht, together with collaboration with other business partners to support the communication of this message.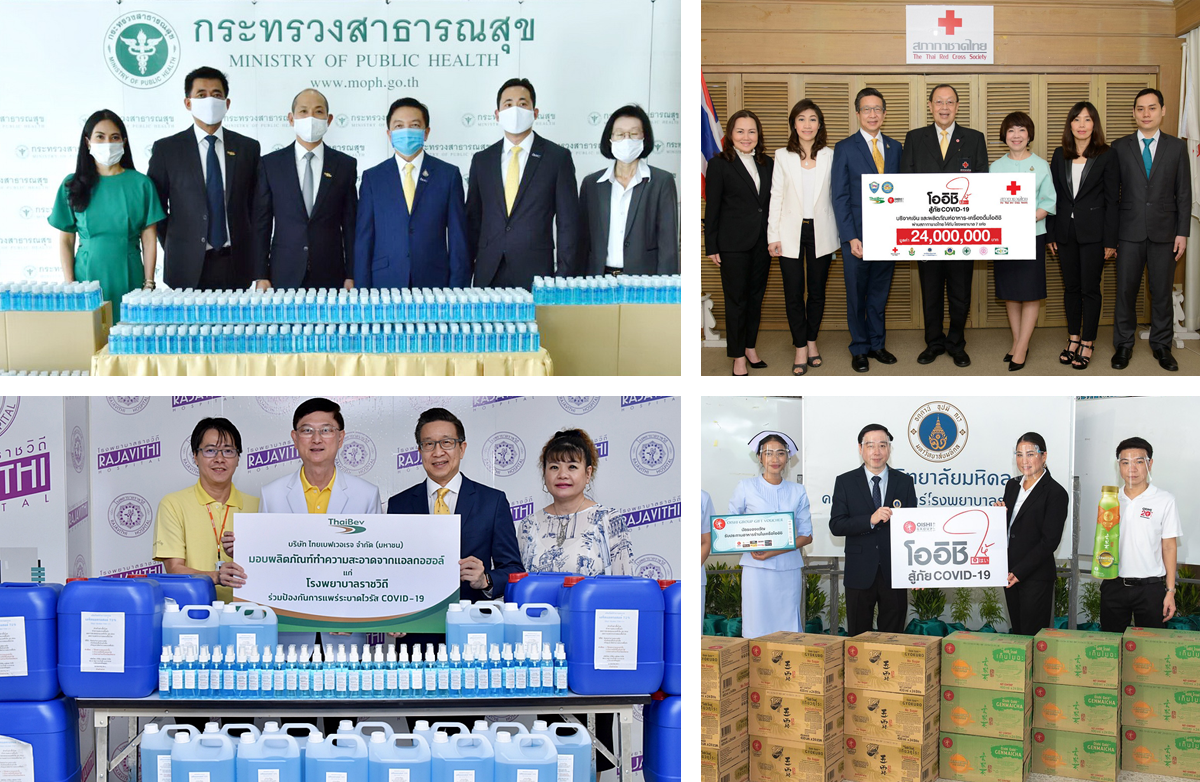 Collaboration to Extended Assistance
Collaborate with other organizations such as suppliers and private companies in the network to produce alcohol gel for donation and support the production of hand hygiene products and work together to delivery them to units in need.
ThaiBev joined force with PTT Chemical (Global) Public Company Limited and GC Group to fight COVID-19 by delivering one million bottles of 50cc alcohol gel under brand Gelco to Ministry of Public Health and public health volunteers all over the country. All together, the company has donated more than 200,000 liters to various organizations in the network such as employees, suppliers, and network of business partners and more than 1,600,000 liters to external organizations.
Oishi Group Public Company Limited, together with the Thai Chamber of Commerce and Board of Trade of Thailand donated 24 million baht of cash, Oishi food and beverage products under "Oishi Fight COVID-19" project to 7 hospitals through Thai Red Cross.
"Changsuek Cook from Home" Project is collaboration between Football Association of Thailand (under Royal Patronage) and Chang, beverage brand, to deliver special menu by national football team to health personnel at Thammasat University Hospital, Nopparatrajathanee Hospital, and Central Chest Institute of Thailand to support personnel who work during this pandemic.
Donation of 101 million baht to Chaipattana's COVID-19 Aid Fund
ThaiBev sponsored government's campaign message to stop infection by staying home on more than 190 LED signages belonged to the company, which hold media value of 2.83 million baht, together with collaboration with other business partners to support the communication of this message.
In order to take care of environment during pandemic time, ThaiBev as one of the members of Thailand's Sustainability Network worked with Ministry of Natural Resources and Environment to launch "Send Plastic Home" Project to tackle environmental issues arise from COVID-19 with aim to increase recycle rate and develop return system due to awareness that there is an increasing amount of plastic waste for more than 15% from food delivery services during this health crisis while food waste and infectious waste like face masks have also increased. ThaiBev also recognized the need to tackle environmental issues in the same time of health challenges, together with other organizations
There also is "ThaiBeve Helps Community, Helps Elephants" Project which responded to the oversupply of local fruits due to the pandemic. ThaiBev bought fruits like mango, longan, and papaya, for more than 31,500 kilograms from 153 farmers to feed 775 elephants from elephants camps which were ordered to close and lack income. This initiative has been done through Thai Elephant Alliance Association who helped select geographical area that elephants were affected by this.
Bangkok Art Biennale Foundation together with ThaiBev support local artists through COVID-19 under "Mongo – COVID" campaign by using mango as medium to create art and invent special menu in order to reflect on the idea that art is healing and raise awareness on food supply during this crisis time. Moreover, created artworks are used to raise fund to assist art students who are in needs of monetary support or affected by COVID-19 to continue their education or pursue their career.
Photography competition titled "Till We Meet Again" to support photographers whose career affected by the pandemic to take photographs and archive them as record of social condition and changes of life during COVID-19.
Crisis Led to New Businesses
ThaiBev has built COVID-19 Screening Center at North Park on Viphavadee Road as medical laboratory under the construction budget of 19,220,000 baht which was opened on 16 April 2020. The center helps to reduce cost for COVID-19 screening for staff and general public.
Together with PTT Global Chemical Public Company Limited, ThaiBev has found a social enterprise to distribute 1 million bottles of 50cc alcohol gel under brand, Gelco, to health volunteers, under Department of Health Service Support, Ministry of Public Health. This alcohol gel which is approved by Institute of Dermatology, Department of Medical Service, Ministry of Public Health, is produced by BevTech Company Limited, one of ThaiBev's subsidiary companies.
ThaiBev has purchased face mask machine with state of the art technology. It is the 4th machine of a kind in Thailand in order to produce medical face mask (with production capacity of 3 million pieces per month) and N95 masks (with production capacity of 1.2 million pieces per month). The plant is expected to finish construction and commence operation in May 2020 in order to produce face masks and N95 masks for sale and donate to staff and affected communities.