ThaiBev and Water Management Projects
June 1, 2019
Volunteers for 10 Groundwater Banks at Khao Rao Tian Forest, Chai Nat Province
Thai Beverage PLC. and Human Capital department initiated the Community Development program by bringing a team of ThaiBev volunteers to help build groundwater banks and plant more trees for fertility at Khao Rao Tian forest, Hunka district, Chai Nat province on September 1-2, 2018. Over 50 volunteers had the chance to study the area of Khao Rao Tian forest and exchanged their knowledge with the locals in the discussion panel to develop this forest area into eco-tourism spots, planted over 500 trees in the forest, and built 10 groundwater banks for the locals. A groundwater bank is able to keep water within an aquifer during rainy season. Groundwater banks will help absorb rainwater and store it for usage in the dry season.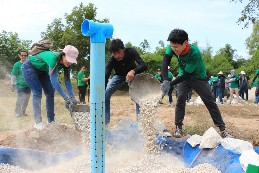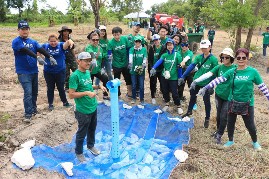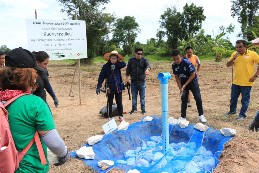 Water, Life, and Quality-of-Life Development Program Water Management System for Community and Prototype of New Agriculture Theory
Understanding the value and importance of natural resources and the environment, Thai Beverage PLC. strives to carry on Community Development programs on sustainable natural resource management by using His Majesty Late King Rama IX's initiatives on Water Management as an inspiration for the greater good. "Water, Life and Quality-of-Life Development Program" was carried out with Utokapat Foundation under Royal Patronage of H.M. the King to preserve water resources and upstream forests to help develop the local economy sustainably.

Area 1
Baan Pak Suad, Pa-sang Sub-district, Baan Ta Khun District, Surat Thani Province. (Upstream forests revival by building a clay check dam with rock formation, 11.00 meter diameter, 3.50 meter broad crest weir, 8.40 meter height, 1.30 meter in depth, dredging 1,500 m2 of the check dam).
Result
Baan Pak Suad, Pa-sang Sub-district, Baan Ta Khun District, Surat Thani Province increased their water reservation for agriculture in dry season and to relieve floods in the rainy season. Benefactors were 3 villages of 120 households, 600 people, and 350 rai of agricultural land.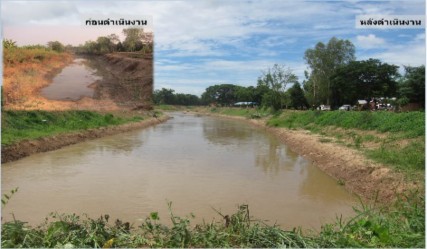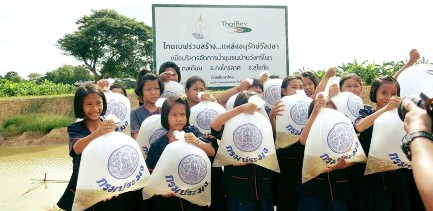 Area 2
Baan Wang Sri Prai, Dong Duey Sub-district, Kong Krai Lat District, Sukothai Province. (Revival of Wang Pla preservation area by dredging 680 meters of Klum Stream for about 16,000 m2. of soil and proceeded the new theory of minimal water spreading system).
Result
Baan Wang Sri Prai, Dong Duey Sub-district, Kong Krai Lat District, Sukothai Province increased the water volume over 16,000 m2 to use as fish a breeding area in dry season. There were 5 cases in Dong Duey Sub-district for practicing new agricultural theory on agriculture area management.
"Build Check Dam, Carry on the Tradition for Sustainable Community" Volunteers Baan Na Suan, Na Suan Sub-district, Sri Sawad District, Kanchanaburi Province
This is an area where the forest was still quite plentiful and acts as an upstream forest, with short stream flow in to Srinakarin Dam. It naturally made the locals, most of them Karen descent, made a living in agriculture. They understand the importance of Water Resource Management to maintain their simple way of life and keep the area fertile and sustainable. Thai Beverage PLC. and Pracharath Rak Samakkee Kanchanaburi Co., Ltd. worked with the community in setting water resource management, according to H.M. Late King's initiative. Volunteers from ThaiBev; along with teachers, students and local farmers, built simple dams by using local materials as much as possible to lower the cost. But this time, it was a mix between Rock-Lining check dam, which is lined with rock at the wide base to slow down the flow of water, helping retain the moisture for the benefit of the eco-system and communities on the water banks. Additionally, there were rock check dams built in pigsties, since there is a lot of bamboo in this area and sandstone ground, these are used to build dams. The budget is minimal, but it can create cooperation and togetherness within the community. They have built total of 10 check dams, 2 of them were in pigsties. This will help in resource management from upstream to downstream.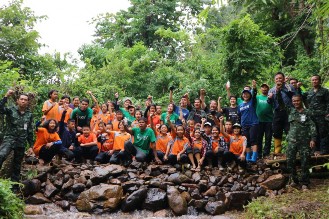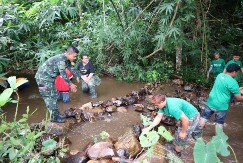 "Water Capital Management in Agriculture Area" in ThaiBev helped create a prototype of Sub-district honest livelihood at Bua Yai Sub-district, Nan Province
Bua Yai Sub-district in Na Noi district is always learning. They used community planning tools to solve problems through activities, but they still lacked data analysis. So, they developed the database system in every dimension. Bua Yai Sub-district has a water capital of 214 streams. However, only 4 of them have a constant, steady flow throughout the year. The community is faced with issues such as monoculture, shifting cultivation in forests, water management for agriculture at high altitudes, health issues from agriculture, and a high risk of cancer from chemicals used in agriculture.
All these issues, along with the intentions of the community and the support of business sector and alliances, including ThaiBev, planted the seed for "Water Capital Management in Mixed Agriculture Areas to further expand the idea of 1 rai of organic farming with the objective to revive Nan upstream forest", which was the beginning of the community's way-of-live drastically changing for the good.
Activities that ThaiBev helped develop and supported in water resource development for 1 rai of organic farming
ThaiBev supported installing a hydraulic ram to pump water to a higher level for restoration and built 3 check dams.
Locals who joined the program must comply with the general rules. There were 11 units, each one will provide water to neighboring agriculture lands.
Started community's fund to save money and use this money to improve check dams and water systems in the area.
Expanding Water Management System Development/ 1 rai of organic farming
Locals took seedlings to plant 30 units per rai.
Built mountain irrigation system for 9.62 meters.
Connected organic farming network in Nan province as provincial public policy.
In solving water management system in farming on high altitude problems, the successes with the community are:
Hydraulic ram system: 11 points. Beneficial area: 11 rai.
Check dam system: 8 units. Beneficial area: 24 rai.
Mountain irrigation system: 9.62 meters on 1,000 rai area.
Beneficial members 35 persons. Water volume at 15 barrels x 1,178.1 litres, equals to 17,671.5 litre (17.67150 m3) 10,800 litre/day.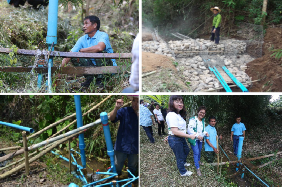 Hydraulic ram to pump water to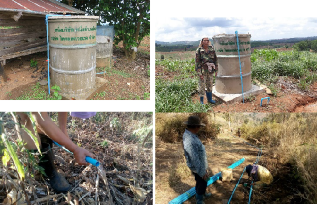 Mountain irrigation system